2012.12.15
Through all 2012 year I was working on the most elaborate project so far. Conceptual design development and production of cult  :STALAGGH: collective project titled :Gulaggh: opus Vorkuta.
The project itself is unique in its stylistic of avant-garde chamber horror soundscape, an excellent torturing atmosphere for the most curious ones. Ever since I heard Vorkuta for the first time back in 2009 on CD it was so inspiring. Evoking the visions of cold desolated lands, monolithic scenery of landscapes covered in snow and abandoned for a long time. Reminiscence of torture in exile and annihilation of humans by humans. The ideology of this project strongly reflects my own views upon humanity and the existence. With their first album Gulaggh succeeded in capturing the very aspect of pain and suffering in times of holocaust.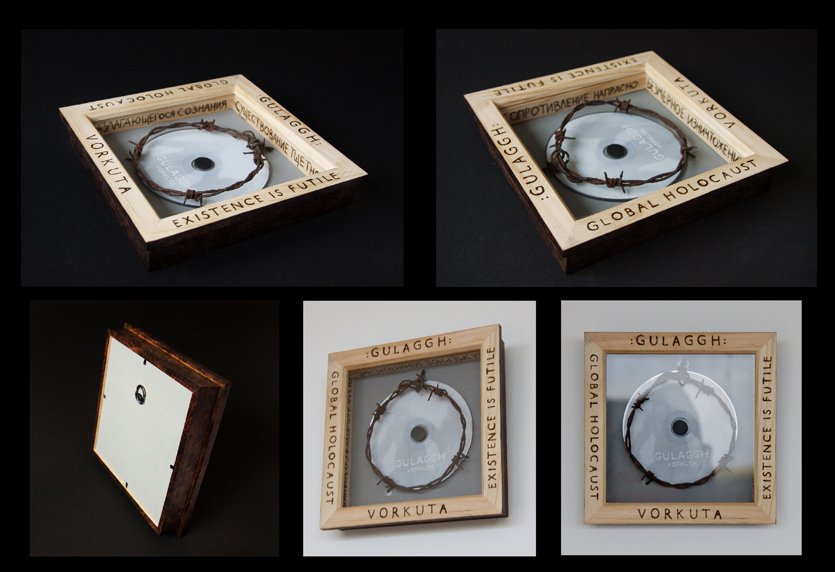 Here 'tis my very personal CD of Vorkuta, released by New Era Prod, mounted in deep frame, burned with pyrography tool from all sides. On the front sides the
following words are burned:
:GULAGGH:  - VORKUTA  - EXISTENCE IS FUTILE - GLOBAL HOLOCAUST
The inner spacer contains following words:
безмерное изничтожение - разлагающегося сознания.
существование тщетно - сопротивление напрасно
Rusted barbed wire wrapped around the disk, in this particular frame 'tis mounted to the back panel with glue. The disk itself is attached to the panel with spider hub.