2013.02.11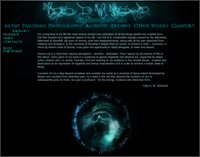 In the last month row I took time to extend my web developing skills in achieving what I was planning for the 2012s. Finally completely updated [v3] live. Visually it is much more simplified and adjusted for a broad audience to browse. Technically this version is also more responsive and involves strong usage of jquery scripts with plugins such as vertical tabs, classic version of galleria, sudo content slider, Black Systems cursor. The main page news are removed as all the news I feel worth posting will be updated solely in my blog. Few minor aspects will be added with time once I figure out how to set the options properly.
I also completely updated tribute page for cemetery, giving a brief history review, option to navigate with google maps, worth reading external links (mostly resources on Russian) as well as sophisticated gallery of various images of that place including paintings, photographs and lithographs dating since XVIII century to present days.
Currently working with T-shirt designs for two proyekts, Gulaggh and Kalpamantra, as well as developing two more websites. In forthcoming weeks I will update my portfolio and add the store link to photography shop.