2009.01.18
Kytonica [kIt○nIka] – my own technique and style of paintings. Since 2005 I have explored variety of techniques in fine arts and crafts. Two years ago my first experiments in particular style appeared. Through '07-'08 years detailed study brought wide range of images including bodyscapes, distorted portraits and parts of faces, eyes, landscapes and merely abstract creatures floating in the vast sepia-tinted world of Zero Plane. I became more  obsessed by human eyes, by their secret profoundness and ambiguous symbolism.
During 2008 I made Second Act "Nulio Teritorija" (Zero Territory) limited edition of 25 copies, each of which included one of my paintings (18×12cm), packed in aluminium case together with two disks. Kytonica became related with my music. I was looking for the ways to get sound and painting work together, and I've made the first approach.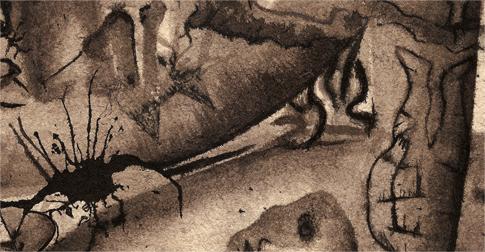 Generally my experimental style gives strong reference to primitivism, rendering so called fusion between abstraction and surrealism as well as some cubism influence; flavored with own sense of symbolism on occasion. I named it 'Kytonica', being unable to think of any better name than that I would call my own son – Kito.
Trapped in the world where they staring at me…
-Videl D.W.V.