2010.05.16
This series of blood paintings called Theophany expresses my views upon humanity and modern world in general.
Through centuries man is driven to the extremes of his nature, releasing all of his sickness by killing, sacrificing and torturing in order to rule and manipulate the masses while hiding himself beyond concepts of higher, omnipotent entity. It is never ending cycle of humanity, it was since many ages ago, and it is seen today.
In Theophany I show that Death, destruction and homicide thoughts as well as behaviour are inevitable part of human cycle. The conflict between limits of reality and pure nature of man is what these paintings are about. An evolution from the very first painting: hypocrisy, the spirit, the purity, freedom.
To me the 'ritual' is strictly personal moment of expression of my sensations and my personality into physical dimension. With these paintings I am neither aiming to shock anyone, nor am I attributing myself to fetishism for pain (although psychological masochism is interesting game to play). To me the blood of mine is the most sacred medium…perhaps the most violent one I ever used to create; and creation is essential in my life. The reason for these paintings to exist is, again, my belief that non-verbal communication is the best way for me to express the subjects that has its' place in my entity, I choose visual 'voice'.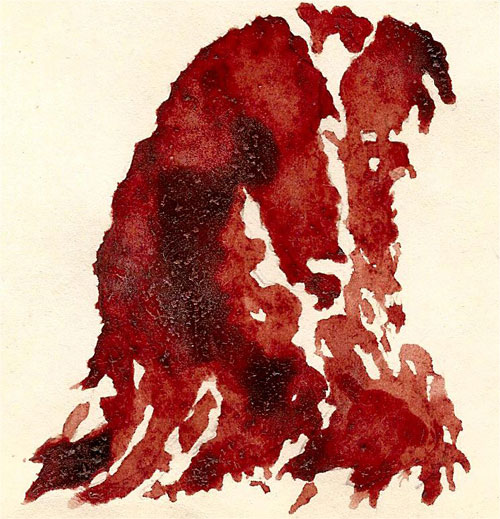 By very personal reasons I kept it hidden from public audience for three years, now in 2010 I share them as a small gesture of gratitude for all the support I received during last years from certain individuals.
.:THEOPHANY SERIES:.