2011.01.05
Through the years of personal development in art and existence, at times I recalled the past, the earlier days. I stop for a short while in various chronologic timeline moments full of nostalgia, remembering important individuals, valuable people that changed my life in one or another way and gave moments of inspiration in my life. Sound was important expression of inspiration and a very personal and sentimental gesture of gratitude: for those who were, entities whose presence still dwell near in abyssal, people whom I never had enough time or chance to know, and especially for those who are no longer here.
We have no destinations, and no time is running for us. When we are wondering for current hour – reverberant echoes answers 'the following'. Travelling from past, which is never to be; through the present, that is not to feel; into the future, which is not waiting for us… Every place we are going to is the place where we were. Every step is as hopeless as billions already made; every breath we take – as futile as cry for the help in the desert of empty thoughts, for trapped in forever we are…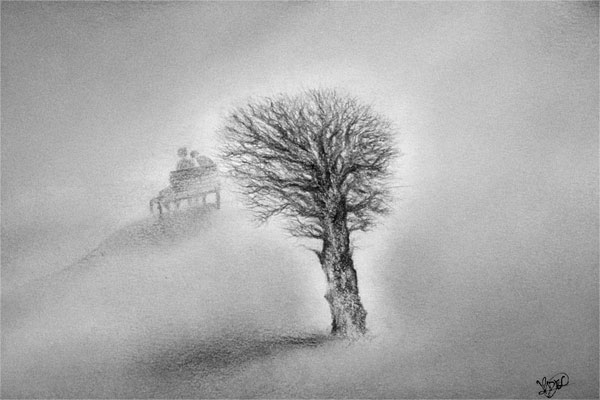 …I remember myself lying in my deathbed on 11th of December, 2008, when Nulio Teritorija "Abisaline Zona" has been started: in a form of small scrapbook of sketches and mind eclipses. I was documenting visions that much greater than this existence of so called life; the sounds of terrifying depths of Nulio Teritorija, in the wooden room – the place that from a long time ago became a shelter for my psyche, I kept exploring my limits. Each step was recorded in additional sketchbook under working title "Cryptodrone", that was primarily meant to be essay of some kind. These two by my will are now merged together due to their cryptoscapistic nature under the same withering experiences in this still dense room, built by the architect of inner void. Step by step it absorbs me thus filling its pages covered with dust.
By this night I have completely written concept, lyrics and timeline of Act III – Торговец Облаками, 'tis ready to be recorded and eventually may even see the light of the day at some point.
For now I lay my head by the weeping willow where the sun cannot reach…